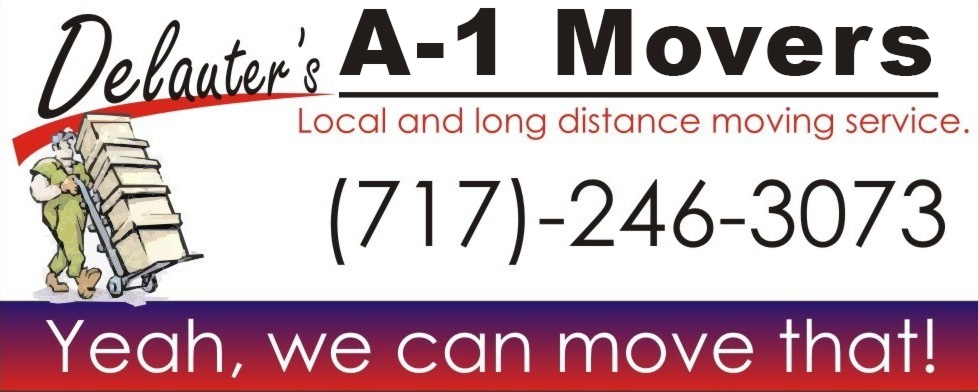 Looking for moving companies in York or Lancaster County, PA? Contact Delauter's A-1 Movers today!
Delauter's is a full-service, local and long distance moving specialists based in York, PA.
Delauter's provides commercial & residential moving services in York, Harrisburg, Lancaster and the surrounding communities.

All moving companies aren't the same.
Not all moving companies are the same. A-1 is experienced, dependable & affordable. Plus we own a full fleet of capable and dependable moving vehicles. At Delauters A-1 Movers, we take pride in our work and take care of your property. We understand that we're transporting much more than just "stuff" so we do our very best to protect your belongings. We're 100% licensed, insured, well equipped and ready to get the job done. We also provide many additional moving products and services. This means you can relax and focus on other things while we take care of the move. Delauters professional movers provides commercial and residential moving services big and small. Have awkward items to move? A challenging stairway? No problem. Whatever the moving problems may be, Delauters Movers in York PA can provide solutions. We are here to help with all your moving needs. We've been in business since 1993 and have been serving the greater York, PA, Harrisburg, PA and Lancaster, PA areas with pride. Below is a list of the moving services we provide:
In and/or out of a storage facility... file moving and storage
Pick up and Delivery of large items
Packing and Unpacking services
Loading and Unloading truck, shipping crates, pods, etc.
Relocate large items
Disassemble and Assemble services
Boxes and packing supplies
We own a full fleet of our own capable and dependable moving vehicles.
Latest News